Your position: Home > Products > IntermediatesProducts
N-Acetylglycine
1. CAS RN: 543-24-8
2. English Name:Acetamidoacetic acid;
Synonyms:Ac-Gly-OH; Aceturic acid; N-Acetylglycine,(Acetamidoacetic acid; Aceturic acid); Acetyl-glycin ; (acetylamino)acetate
3.Structural Formula: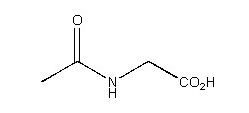 4.Molecular Formula & Molecular Weight: C4H7NO3 117.10
5. Characters: Long needle crystal, soluble in water and ethanol, the solubility in 15℃ in water is 2.7:100; slightly soluble in acetone, glacial acetic acid and chloroform, insoluble in ether and benzole. Melting point: 207-209 ℃.
6.Quality standard: Enterprise Standard..
7.Usage: Chemical and pharmaceutical intermediates, used for synthesis the drug for coagulation of blood and antipruritic.
8. Storage: It should be kept in cool and dry place, and stored in sealed containers.
9. Packing: paper bucket, 25kg/drum