Your position: Home > Products > APIProducts
Procaterol Hydrochloride Hemihydrate
1. CAS RN: 81262-93-3
2. English Name:Procaterol Hydrochloride Hemihydrate
Synonyms:2(1H)-Quinolinone,8-hydroxy-5-[1-hydroxy-2-[(1-methylethyl)amino]butyl]-monohydrochloride,hydrate
3. Structural Formula: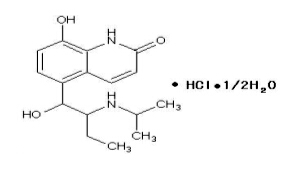 4.Molecular formula & molecular weight: C16H22N2O3·HCL·1/2H20 335.83
5. Characters: It's a white or off-white crystal powder, scentless, bitter taste, sparingly soluble in water or methanol, slightly soluble in ethanol, insoluble in ether.
6. Quality Standard: Enterprise Standard / JP15
7.Usage: It is used into preventing asthma, anti inflammation, anti-irritability, and mainly applied in clinic for bronchial asthma, bronchitis and chronic choking pulmonary diseases and acute bronchitis
8. Storage: It should be kept away from light, stored in sealed containers.
9. Packing: 50 g/package
10.HS CODE: 2914 5000.00