Your position: Home > Products > APIProducts
Policresulen
1. CAS RN: 9011-02-3
2. .English Name:Policresulen
Synonyms:Methylenebis(hydroxytoluenesulphonic acid)polymer;Policresulen; 2-hydroxy-3,5-bis(4-hydroxy-2-methyl-5-sulfobenzyl)-4-methylbenzenesulfonic acid; 2-(hydroxymethyl)benzenesulfonic acid - formaldehyde (1:1)
3. Structural Formula: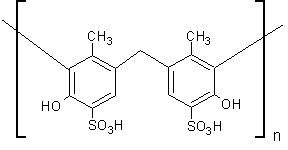 4.Molecular formula & molecular weight: (C15-H16-O8-S2) n;n =0-3
5.Appearance: Red brown pellucid liquid, strong acid.
6.Quality Standard: Enterprise Standard.
7.Usage: It is used fordisinfecting, antisepticising and hypostasizing.
8.Storage: It should be kept in a cool, dark and dry place and stored in sealed containers.
9. Packing: Plastic bucket, 25kg/drum.
10. HS CODE: 29089990.90