Your position: Home > Products > IntermediatesProducts
N-[4-Cyano-3-(trifluoromethyl)phenyl]methacrylamide epoxide
1. CAS RN: 90357-51-0
2. English Name: N-[4-Cyano-3-(trifluoromethyl)phenyl]methacrylamide epoxide
Synonyms:N-[4-cyano-3-(trifluoromethyl)phenyl]-2-methyl-oxiranecarboxamide; 1,2-epoxy-2-methyl-n[4-cyano-3(trifluoromethyl)-phenyl]propanamide; 1,2-epoxy-2-methyl-n-[4-cyano-3-(trifluoromethyl)]; n-[4-cyano-3-(trifluoromethyl)phenyl]methacrylamide epoxide; 1,2-epoxy-2-methyl-n[4-cyano-3(trifluoromethyl)-phenyl] propanamide; n-[4-cyano-3-trifluoromethy phenyl]-2-oxirane carboxamide; n-[4-cyano-3-(triflouromethyl) Phenyl]-2-methyl-2-oxirane Carboxamide; N-[4-cyano-3-(trifluoromethyl)phenyl]-2-methyloxirane-2-carboxamide; N-[4-Cyano-3-(Triflouromethyl)Phenyl]-2-Methyl-2-Oxirane Carboxamide
3.Structural Formula: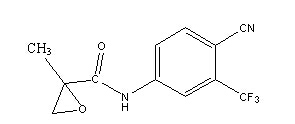 4. Molecular Formula & Molecular Weight: C12H9F3N2O2 270.2
5. Characters: It's a white crystalline powder, soluble in ethanol, mp151℃.
6. Quality Standard: Enterprise standard, purity >99.0%(HPLC)
7. Usage: It's an intermediate of Bicalutamide.
8. Storage: It should be kept in cool and dry place, and stored in sealed containers.
9. Packing: paper bucket, 25kg/drum.