Your position: Home > Products > APIProducts
Topiramate
1. CAS RN: 97240-79-4
2. English Name:Topiramate
Synonyms:2,3:4,5-di-O-isopropylidene-beta-D-fructopyranose sulfamate; Topamax; Tracrium; Toiramate:
3.Structural Formular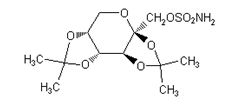 4. Molecular formula & Molecular weight: C12H21NO8S 339.37
5.Appearance: It's a white to off-white powder. Freely soluble in dichloromethane
6. Quality Standard: USP36
7. Usage: It's a new drug of anticonvulsants.
8.Storage: It stored in sealed containers, cool and dry place, and away from light.
9. Packing: Paper bucket, 25kg/drum.
10.HS CODE: 2932 9990.99