Your position: Home > Products > IntermediatesProducts
3,3'-Dimethyl-Benzidine
1. CAS RN: 119-93-7
2. English Name:3,3'-dimethyl-benzidine
Synonyms:C.I. Azoic Diazo Component 113; Orthotolidine; o-Tolidine; Azoic diazo component 113; DMB; Fast Dark Blue Base R; 1'-biphenyl)-4,4'-diamine,3,3'-dimethyl-; (1'-Biphenyl)-4,4'-diamine-3,3'-dimethyl-; (1,1'-biphenyl)-4,4'-diamine-3,3'-dimethyl-; (1'-biphenyl]-4,4'-diamine,3,3'-dimethyl-; [2-Tolidin; 2-Tolidina; 2-Tolidine; 3,3'-dimethyl-4,4'-biphenyldiamine; 3,3'-dimethyl-[1,1'-biphenyl]-4,4'- diamine; 3,3'-dimethyl-[1,1'-biphenyl]-4,4'-diamine; 3,3'-Dimethylbenzidine; 3,3'-dimethyl-4,4'-diaminobiphenyl; o-Tolidine(3,3'-Dimethylbenzidine)
3. Structural Formula: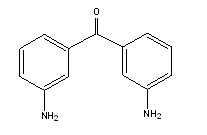 4. Molecular formula & molecular weight:C14H16N2 212.29
5. Characters:It's a white crystalline powder, slightly soluble in water, soluble in alcohol, ether and dilute acd,inflammable, poisonous,irritate for skin and mucosa, sensitization. MP: 129℃~131℃.
6. Quality Standard:Enterprise standard. Purity is not less than 99.9%.
7. Usage:It's an organic synthesis intermediate, mainly used for manufacturing dyes such as azoic coupling component AS-G, cyan chromophore R and direct dyes, etc. reagent grade products can be used as dosimetry probe of metals such ascobalt, copper and chromium, etc. It's a reagent of measuring the polar-sensitive of gold and free chlorine containing in water
8. Storage: It should be kept in cool and dry place, stored in sealed containers.
9.Packing: paper bucket, 25kg/drum.